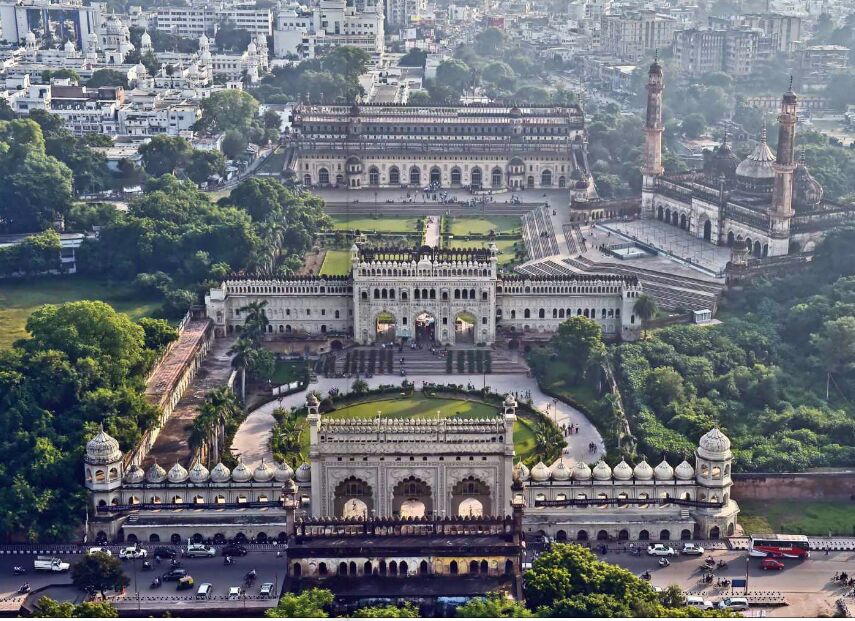 Nestled in the heart of India, the enchanting capital of the Awadh region of medieval India, Lucknow, often referred to as the "City of Nawabs," beckons with its captivating blend of beauty, culture, and Islamic heritage. Known as the 'cultural capital of Northern India,' this city boasts a symphony of experiences. Its history and culture shine with echoes of "Adab" and "Tehzeeb" – manners and hospitality. The glorious past is evident in heritage landmarks and the delicate Chikan embroidery. The city's cuisine served on royal "dastarkhwans," presents a splendid array of flavors fit for royalty. This historic city is a testament to the grandeur of the Nawabi era, where Indo-Islamic architecture and the opulence of bygone rulers still grace its streets. It currently serves as the capital city of Uttar Pradesh, the northern state of India. Explore Lucknow, where history and culture intertwine seamlessly, offering a captivating experience for all who visit. Immerse yourself in the allure of Lucknow, where centuries of heritage, Indo-Islamic splendor, and cultural treasures await your discovery.
The city is a true gem for Halal-friendly travelers seeking a journey filled with cultural richness and Islamic heritage. The city's major attractions offer a profound connection to its past, inviting you to explore its captivating story.
The magnificent Asafi Imambara also referred to as Bara Imambara, built in the eighteenth century by Nawab Asaf-ud-Daula, stands as an Islamic architectural marvel. Its central hall, one of the largest arched constructions without any support beams, is a testament to architectural brilliance. The Asafi Mosque, located within the Bara Imambara complex, is an architectural gem. Its elegant design and serene ambiance make it a must-visit for those seeking a glimpse of Islamic heritage. It boasts a captivating design, an enduring vaulted hall, an enigmatic Bhul-bhulaiya, and a graceful Bowli. Two majestic gateways add intrigue to this architectural gem. Adjacent is the Husainabad Imambara, also referred to as Chota Imambara, built by Nawab Mohammad Ali Shah, featuring ornate design, chandeliers, gold-edged mirrors, and a resplendent golden dome. This exquisite structure serves as a symbol of the city's artistic and cultural heritage. The serene courtyard and the stunning reflective pool add to its charm.
The Rumi Darwaza, a majestic gateway, is often called the Turkish Gate. It's an iconic symbol of Lucknow's architectural heritage and a reminder of the city's multicultural influences. The magnificent structure resembles medieval European architecture. Built-in the eighteenth century, perfect Indian arches capture the essence of Lucknow's historical grandeur.
The tombs of Nawab Sadat Ali Khan and his wife Begum, Khurshid Zaidi, are exquisite examples of Indo-Islamic architecture, set amidst lush green parks. Adorned with Awadhi patterns of architecture, these tombs showcase majestic arches and pillars, creating a captivating spectacle. This well-preserved monument is a testament to the architectural beauty of Lucknow.
Qaiserbagh Palace, built in the nineteenth century by Nawab Wajid Ali Shah, the famous Nawab of Awadh, is a historical masterpiece. It featured ornate entrance gates and served various purposes, including housing the Nawab's Harem and hosting splendid banquets and festivities. The elegant white Baradari at its heart was a center for skilled dancers who entertained the city's elite, while the vast quadrangle witnessed diverse spectacles, creating a vibrant tapestry of activities within the palace's walls.
Lucknow's Jama Masjid, this grand Mosque, with its striking Mughal architecture, offers a place for prayer and reflection. The intricate details in its design are a testament to the city's commitment to preserving its Islamic heritage.
The historic Residency in Lucknow is a site that witnessed significant events during the First War of Indian Independence in 1857. It stands as a poignant reminder of the city's historical significance.
As you explore the city's Islamic heritage, you'll be captivated by the artistry, history, and spiritual depth that resonate through these architectural wonders. Moreover, Lucknow's colorful historical markets and bazaars, vibrant culture, traditional cuisines like kebabs and biryanis, and the warmth of its people make it an inviting destination for Halal-friendly travelers. This city promises an immersive journey that connects you to the heart of India's rich Islamic heritage and cultural values, all within the embrace of a city that seamlessly blends tradition with modernity.
Embark on a captivating journey to Lucknow with our thoughtfully tailored itineraries, designed to provide an immersive and Halal-friendly travel experience, where the echoes of Islamic heritage reverberate through time, beckoning you to explore its beauty and history.