Prepare for an extraordinary odyssey through the very heart of India, a grand epic that intricately weaves together its rich cultural heritage and timeless beauty in a mesmerizing symphony. On this enchanting journey, the echoes of Indo-Islamic heritage harmonize seamlessly with an intricate tapestry of beauty, painting a vivid and captivating portrait of history and spirituality. The illustrious city of Delhi extends an exclusive invitation, beckoning Halal-friendly travelers to embark on a magnificent voyage, where they will uncover its historical treasures and embrace its contemporary allure.
Over the centuries, this city bore witness to illustrious rulers and dynasties, from the Delhi Sultanate to the mighty Mughals. Their tales of heroism and romance reverberate through grand monuments, which serve as timeless relics of a regal era. These rulers have left an indelible mark on Indo-Islamic culture, spanning from the twelfth to the nineteenth century, offering us a unique opportunity to catch a glimpse of the city's ancient and medieval history, embarking on a journey through Islamic heritage, Indo-Islamic art, and architectural marvels. Discover UNESCO-listed monuments, wander through charming lanes, and immerse yourself in scenic landscapes, all while becoming enveloped in a tapestry of Indo-Islamic heritage and architectural opulence.
Delhi, India's captivating capital, seamlessly blends ancient and modern, making it an alluring Halal-friendly travel destination. With around 15 million residents, it is one of the world's oldest continually inhabited cities, steeped in history. Delhi takes immense pride in its diverse culture and Indo-Islamic architectural heritage. This heritage city is embellished with UNESCO-listed sites, serving as a testament to its enduring significance. British colonial architecture in New Delhi adds charm. Explore historic monuments, captivating museums, inspiring art galleries, and bustling markets.
Delhi, with its grandeur and historical significance, is a living testament to its incredible tales, spanning from the ancient era and the Delhi Sultanate to the opulence of the mighty Mughal Empire. The Qutub Minar, a UNESCO World Heritage Site, soars into the sky, commemorating the triumph of Indo-Islamic architecture and engineering. Your journey through these monumental landmarks will transport you to an era of imperial grandeur. Mughal Emperor Humayun's garden tomb, also a UNESCO World Heritage Site, stands as one of the greatest examples of Indo-Islamic architecture. Persian and Indian craftsmen collaborated to construct this massive garden tomb, which, built on a monumental scale, with grandeur of design and a garden setting, surpasses any tomb built in the Islamic world before it. The exterior view of Humayun's Tomb is breathtaking, and the scenic beauty of this architectural marvel leaves visitors mesmerized. Step into the awe-inspiring Red Fort, another UNESCO World Heritage Site, where the rich history of Indo-Islamic culture is etched into its crimson sandstone walls. Marvel at the intricate beauty of Jama Masjid (Mosque), one of India's largest and most spectacular Mosques.

The city where every corner is steeped in history, culture, and spirituality. Explore the tranquil Lodi Gardens, a vast expanse adorned with beautiful monuments and tombs representing the dynasties that ruled Delhi from the thirteenth century to the nineteenth century, spanning from the Delhi Sultanate to the Mughal Empire. Discover the sacred Dargah (Shrine) of Hazrat Nizamuddin Aulia, where Sufi mysticism thrives. These sites resonate with the enduring legacy of Islamic heritage, offering a unique opportunity for reflection and enlightenment.
In Old Delhi, formerly known as Shahjahanabad, the walled city immerses you in a rich tapestry of history through striking monuments and the lively sounds of vibrant bazaars. Strolling through its winding lanes reveals that every wall has a story to tell, making it one of the world's busiest and oldest areas. The city's culinary landscape is a tantalizing journey for the taste buds. Savor the delectable flavors of traditional Mughlai dishes and desserts that epitomize the fusion of flavors in Indian cuisine. Indulge in the city's culinary delights, perfected over centuries, and experience the warmth of local hospitality.
A visit to Delhi would be incomplete without exploring the historic charm of Old Delhi, often referred to as "The Living Walled City of Delhi." This bustling district stands as one of the oldest and busiest areas in the world, boasting a labyrinth of ancient streets, vibrant shops, and bustling markets teeming with people, and it remains the perfect destination for immersive walking tours. Old Delhi, once the fortified capital of the Mughal Empire, encapsulates the essence of a bygone era.
These meticulously crafted tours are the brainchild of individuals deeply immersed in the essence of 'Real' Delhi. They center around the pre-Shahjahanabad period, offering you a unique window into the culture, culinary delights, and diverse tapestry of people. The experience also allows you to witness and partake in the preservation of invaluable ancient traditions.
Before embarking on this captivating journey, it's essential to appreciate the unique highlights of this city steeped in heritage. Old Delhi, having borne witness to a succession of mighty empires and powerful kingdoms, boasts a storied history as one of the world's oldest inhabited cities. It holds the distinction of being one of the longest-serving capitals, having undergone cycles of construction, destruction, and rebuilding over the centuries.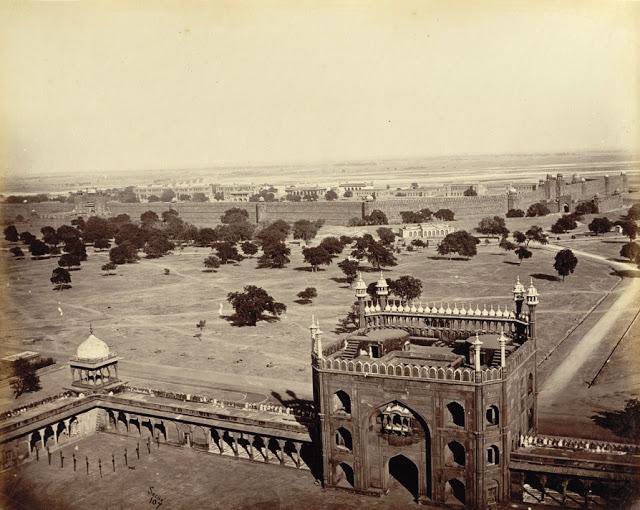 This walled city continued to serve as the capital of the Mughals until the end of the Mughal dynasty, and it later received a new name under British rule. The architectural marvels of Old Delhi offer a breathtaking glimpse into the craftsmanship of that era, brimming with charisma and nostalgia. As you wander through the lanes of Old Delhi, every wall you encounter has a compelling story to share, further enriching the historical tapestry of this remarkable city.
Delhi retained its status as the capital of the Mughals until the end of their dynasty, later rechristened Old Delhi by the British. The architectural magnificence of Old Delhi is a testament to the craftsmanship of its time, exuding an undeniable charm and a sense of nostalgia. While wandering through the intricate lanes of Old Delhi, one can't help but notice that every wall has a story to tell.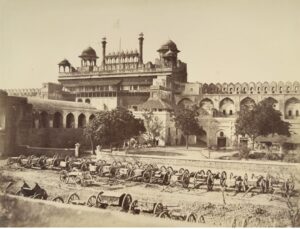 The city of Old Delhi is an intriguing walled quarter, predominantly shaped in the form of a quarter circle, with the iconic Red Fort serving as its focal point. Historically, the old city was enclosed by a protective wall spanning about 1500 acres, punctuated by 14 gates. Originally constructed from mud, these formidable walls were replaced with resplendent red stone in 1657. During the Mughal era, these gates would be securely locked at night, and several of them still stand tall around the city, including the likes of Kashmiri Gate, Ajmeri Gate, Turkman Gate, Delhi Gate, and Feroz Shah Kotla.
Amidst the bustling streets of Old Delhi, you'll encounter a plethora of forts, palaces, heritage structures, monuments, Havelis (mansions), mosques, and temples. While much of the protective walls have faded into history, most of the gates remain as a testament to the city's rich heritage. The construction of this remarkable city was completed in 1648, and it remained the epicenter of the Mughal Empire until its eventual decline in 1857.
The roots of this remarkable city of Shahjanabad trace back to the year 1638 when the illustrious Mughal Emperor Shah Jahan made the momentous decision to relocate his capital from Agra to Delhi.
Old Delhi stands as a testament to history, adorned with a wealth of unique and imposing historical monuments. One such masterpiece is the Masjid-i Jahān-Numā, also known as the Jama Mosque of Delhi. Commissioned by the visionary Mughal Emperor Shah Jahan, it ranks as one of the largest mosques in the world and is celebrated as India's most renowned mosque. Construction of this awe-inspiring structure commenced in 1650 and was concluded in 1656. The mosque, later known as Jama Masjid, beckons visitors with its exquisite beauty and breathtaking vistas of the city's unique heritage.
Another iconic landmark is the Red Fort, also known as Lal Qila, a grand edifice constructed under the patronage of Mughal Emperor Shah Jahan. This architectural marvel has achieved the status of a UNESCO World Heritage Site, representing the opulence and grandeur of the Mughal court. Erected during the 17th century, the Red Fort was once the residential enclave of the Imperial Family of India.
Adding to the enchantment of Old Delhi is the bustling marketplace known as Moonlight Square or Chandini Chowk. Established centuries ago, it owes its origins to the time when Mughal Emperor Shah Jahan made the pivotal decision to move his capital from Agra to Delhi. His daughter, Jahan Ara Begum, laid the foundation of this vibrant square, around which a thriving market sprang to life. Chandini Chowk, situated at the heart of Shahjahanabad, is an unmistakable hub of activity, boasting a history dating back to the 17th century.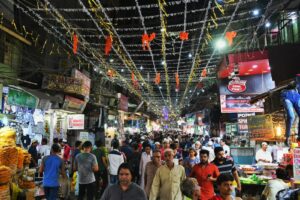 A leisurely walk along the lanes of Chandni Chowk takes you through the main thoroughfare of Old Delhi, which stretches from the Red Fort to the historic Fatehpuri Mosque. Originally, a canal flowed through the center of this street. To the north, you'll find the mansion of Begum Samru, now known as Bhagirath Palace. To the south, lies Dariba Kalan, a densely populated residential area, beyond which stands the Jama Masjid. Daryaganj, a district that once bordered the river at Rajghat and Zeenat-ul-Masjid, adds to the cultural and historical richness of this area. Here, you'll encounter heritage mansions, vibrant markets, and a myriad of experiences, making it a place that truly has it all.
Mirza Ghalib Haveli, or Ghalib's Mansion, is a distinguished heritage site situated on Qasim Jan Street in the Ballimaran area of Old Delhi. This haveli holds immense historical significance as it was once the residence of the renowned Urdu poet, Mirza Ghalib, where he crafted his masterpieces. Mirza Ghalib, a celebrated figure in Urdu and Persian poetry, thrived during the final years of the Mughal Empire in India. He is hailed as one of the preeminent poets in the annals of Urdu literature, and his literary contributions continue to inspire and influence generations.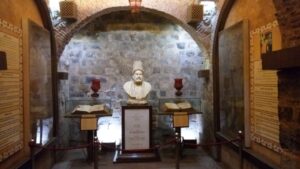 Today, this haveli has been transformed into a museum and memorial, meticulously curated to pay tribute to his life and legacy. The management of this heritage site falls under the purview of the Archaeological Survey of India (ASI), and the haveli has been transformed into a permanent memorial museum that houses an extensive collection of objects associated with Mirza Ghalib. It offers visitors a captivating glimpse into the profound literary work of Ghalib and provides insights into his lifestyle.
The origins of the Urdu language can be traced back to the Urdu Bazaar of Old Delhi. This area has been instrumental in nurturing and preserving the language, owing to the presence of numerous magazines and Urdu publications.
As you navigate the ancient narrow lanes of Old Delhi full of old aura and, flanked by bustling sidewalks on both sides, you'll encounter a plethora of shops selling an array of items, ranging from jewelry, saris, cell phones, food, paper, books, clothing, shoes, to toys – a veritable treasure trove of goods. While traversing these tight and crowded alleys, you'll be immersed in a unique and vibrant culture, where the past and the people have retained their authenticity for more than a century.
Additionally, your journey will lead you to learn about the fundamental ingredients and essentials of Indian cuisine, offering a sensory exploration of the region's culinary heritage. The colorful and enticing street food in this market caters to the preferences of the local community, offering a delightful gastronomic experience.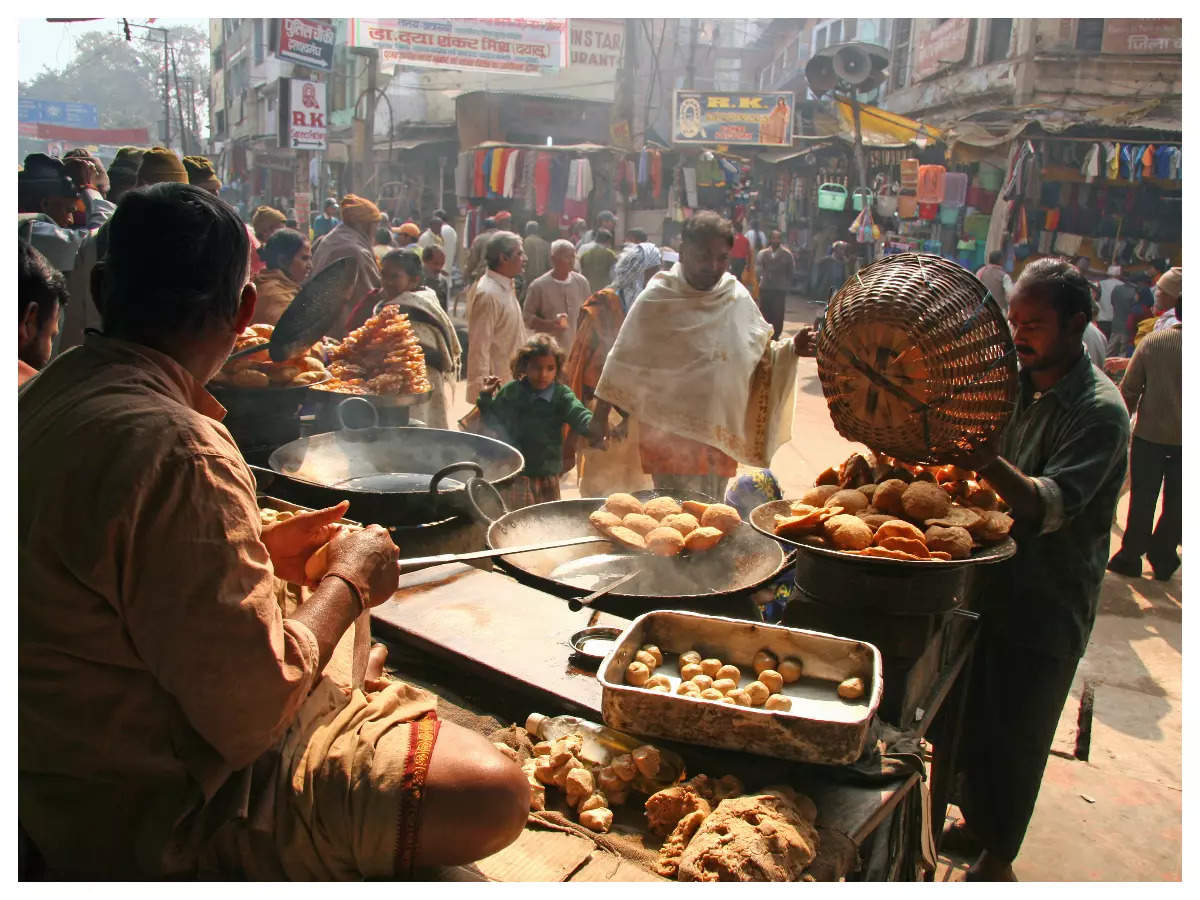 One would describe life in this place as a captivating paradox, where time seems to stand still, disconnected from the hustle and bustle of the wider world. Here, on a street corner, you'll find a humble barber chair situated amidst the chaos of a busy road – an unconventional but surprisingly fitting spot to get a haircut. As people pass by in a continuous stream, the barber carries out his craft with remarkable skill, creating an unexpected oasis of calm. It's a testament to the uniqueness of this place.
Continuing your walk, you'll witness schoolchildren pouring out onto the streets as the school day ends, opting for cycle rickshaws to carry them home instead of the usual school cabs or buses. The traffic in the streets, despite its bustling appearance, often reaches a near-standstill, giving the impression that time here moves at its own pace.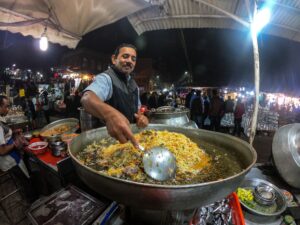 The narrow lanes of Old Delhi are a treasure trove of diverse cuisines that tantalize the senses with their heavenly aromas. Acclaimed by both national and international food guides, the food on offer never fails to tempt even the most discerning palate. A highlight is the famous Paranthe Wali Gali, a narrow street nestled in Chandni Chowk, where a string of shops serves parathas – fried Indian bread stuffed with a variety of fillings and accompanied by mint chutney, tamarind chutney, pickles, and curries. With over 30 varieties of parathas to choose from, it's a gastronomic journey you won't soon forget. As you explore this culinary landscape, don't miss out on the famous sohan halwa, Karachi halwa, badam barfi, kalakand, and jalebi that add to the rich tapestry of flavors and charm that define Delhi.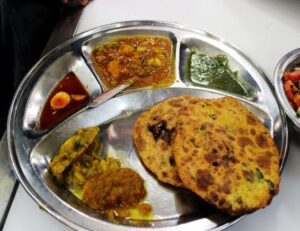 The city, with its majestic monuments, diverse culture, and thriving Islamic heritage, is a destination that transcends time and space. Delhi promises to be an unforgettable blend of history, beauty, and leisure that will leave an indelible mark on your heart and soul.
Embark on a journey to unveil the authentic essence of India with us. India stands as a premier destination for Halal-friendly travelers, weaving a tapestry of mesmerizing Muslim-friendly travel destinations. We offer a comprehensive selection of options to craft a truly unforgettable and enchanting Halal-friendly travel experience, meticulously customized for your Halal holidays. Immerse yourself in the rich tapestry of cultural heritage and the serene beauty of nature, as we curate an experience that is as enriching as it is tranquil.
We take immense pride in being the most trusted Halal travel guide for Muslim travelers seeking the best of Halal-friendly tourism in India. Our unwavering commitment ensures a mesmerizing travel experience throughout your trips in India.
Write us – travel.HalalTripIndia.com
Follow us – www.facebook.com/IndianHalalTourism
Follow us – https://www.instagram.com/halaltripindia/