Nestled amidst scenic landscapes, it stands as a testament to the Royal Era, captivating travelers who have a penchant for history, culture, and architectural marvels. This destination perpetually finds its place on the bucket lists of millions of visitors worldwide, enchanting them with its charming lakes and surrounding ancient palaces, beckoning them to explore the land of regal grandeur and a rich historical past. Beyond the architectural splendors, the city's natural beauty captivates travelers at every turn. Serene Lakes, seemingly mirroring the grandeur of the palaces that surround them, offer tranquil retreats and a soothing respite from bustling city life. The shimmering waters, embraced by lush greenery, create a picturesque backdrop that lures visitors to indulge in boat rides, soak in the enchanting views, and experience moments of serenity.
For travelers in search of romance, tranquility, and natural beauty, Udaipur is an irresistible destination. With its lush green surroundings, ancient mountains, and picturesque lakes, the city exudes a serene and romantic atmosphere that leaves a lasting impression on visitors. Known as "The lake city," Udaipur offers an opportunity to immerse oneself in the wonders of nature, indulge in leisurely pursuits, and create cherished memories that will endure forever.
Udaipur, a city steeped in history, reveals a captivating heritage that spans centuries. Majestic palaces stand tall, each showcasing unique architectural styles that harken back to the extravagant lives of past royalty. These palaces transport visitors to a bygone era, where every corner whispers tales of kings and queens, lavish celebrations, and regal existence. Towering fortresses overlook the city, providing panoramic vistas and safeguarding the secrets of its glorious past. With formidable walls that bear witness to countless battles and triumphs, these fortifications embody the bravery and determination of the warriors who defended their kingdoms. Exploring these awe-inspiring structures is akin to journeying through time, immersing oneself in the strategic brilliance and military might of a bygone era.
This captivating destination is a haven for romance and leisure, offering a serene and idyllic atmosphere that touches the hearts of all who visit. The lush green surroundings, courtesy of the majestic Mountains, create a breathtaking backdrop that adds to the city's allure. Udaipur has been ranked as one of the Top 10 Best Cities in the World by the prestigious magazine Travel + Leisure, a testament to its international recognition in the field of tourism.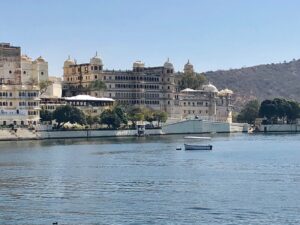 As visitors explore Udaipur, they can immerse themselves in its romantic ambiance that pervades every corner. Walking hand in hand along the lakeside promenades, they witness the captivating interplay of shimmering waters and verdant surroundings. The lakes become a playground for romance, inviting boat rides, leisurely movements, amazing views, and unforgettable moments that leave an everlasting mark on their hearts.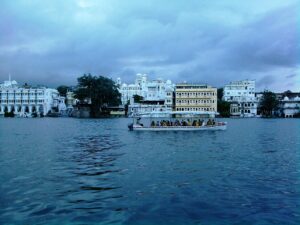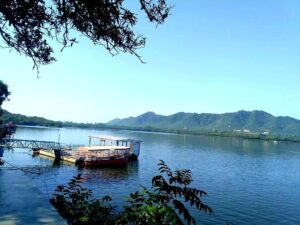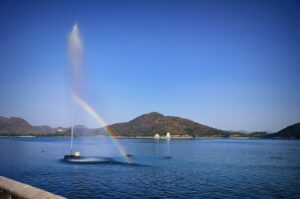 The romantic city of Udaipur holds a legendary origin. It served as the capital of the Mewar rulers for centuries before Maharaja Udai Singh II founded it in 1559, moving the capital from Chittorgarh to Udaipur. The city retained its status as the capital of the Mewar Kingdom until it became a princely state under British India.
Udaipur, a perennial favorite of the royals, carries a rich cultural heritage from times long gone. It strikes a delicate balance between preserving ancient rituals and traditions while embracing modern advancements and changes in lifestyle. Like other towns in the royal state of Rajasthan, folk dance and music play a significant role in enriching the city's cultural tapestry.
The city boasts seven enchanting lakes, including Fateh Sagar Lake, Lake Pichola, Swaroop Sagar Lake, Rangsagar, and Doodh Talai Lake. These shimmering bodies of water enhance the city's charm and provide stunning views for visitors to enjoy.
Framed by majestic mountains, magnificent heritage buildings, and enchanting palaces, Lake Pichola is a place that embodies dreams. Witnessing the serene blue waters ignite into a fiery spectacle at sunrise is truly magical. Equally mesmerizing is observing the grey-green mountains cast elongated shadows on the water as the sun sets, while sparkling stars dance upon the rippling surface, blending with the lights emanating from the surrounding areas. Situated in the heart of Udaipur city, Pichola is one of the city's oldest and largest lakes. Its construction dates back to 1362 when Pichhu Bajanara built it during the reign of Maharana Lakha. According to legends, the lake's captivating beauty captivated Maharana Udai Singh, inspiring him to establish a city on its banks. Maharana Udai Singh II further expanded the lake after the city was constructed by submerging Picholi village, from which the lake derives its name.
According to legends, Lake Pichola was indeed built by one of the kings of Udaipur who desired to witness the breathtaking sunsets over the lake. Additionally, the lake is home to a sanctuary that attracts a diverse range of bird species, including egrets, cormorants, coots, tufted ducks, terns, and kingfishers.
The shores of the lake are connected by beautiful arched bridges at various points, enhancing its charm. Along the eastern banks of the lake proudly stands the magnificent City Palace, adding to the allure of the surroundings. Exploring the lake by boat is an essential experience in Udaipur that should not be missed.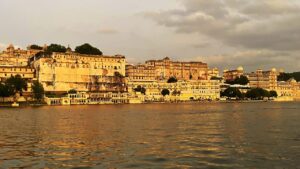 Nestled amidst the picturesque Aravalli range, Fateh Sagar Lake is a tranquil gem in Udaipur. Constructed in 1678 by Maharana Jai Singh, the lake was later expanded by Maharana Fateh Singh, after whom it was named. Today, Fateh Sagar stands as one of Udaipur's largest artificial lakes, offering a serene and captivating experience.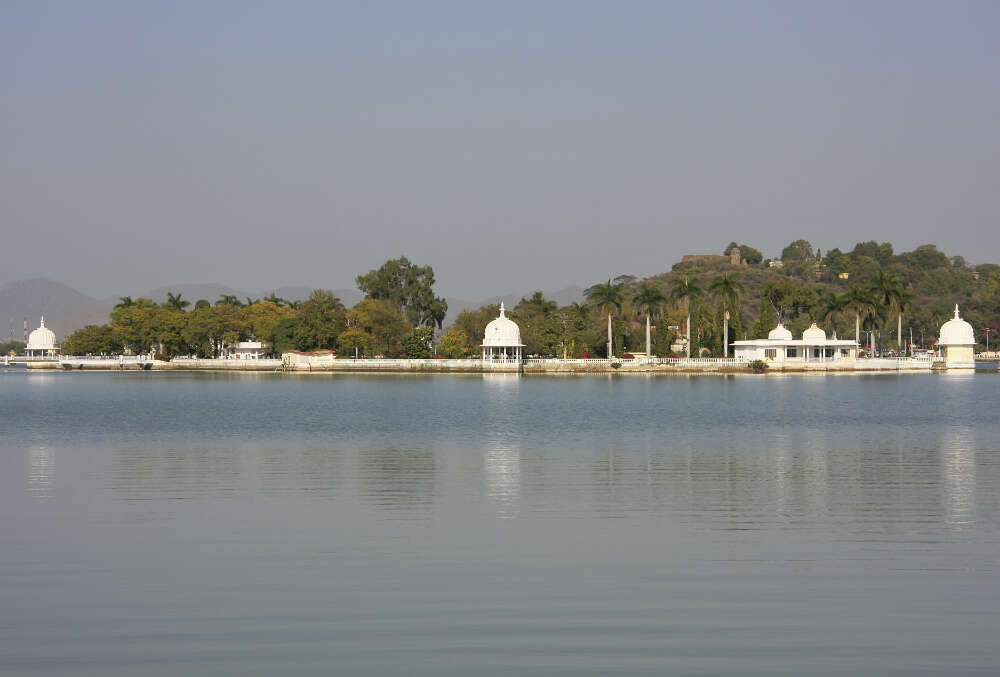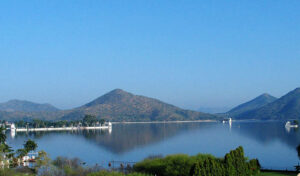 Majestic landmarks grace the town, including the romantic Lake Palace, the grand Royal City Palace, the beautiful Monsoon Palace (also known as the Sajjangarh Palace), and Jag Mandir, among many others.
Nestled on a picturesque island in the glistening waters of Lake Pichola, the Lake Palace of Udaipur stands as an architectural marvel and a testament to regal grandeur. As the sun's golden rays dance upon its pristine white façade, this ethereal palace embodies romance and serenity. Surrounded by the breathtaking panorama of the Aravalli Hills, the Lake Palace presents a mesmerizing backdrop that complements its enchanting beauty. Its ethereal presence evokes a sense of awe and transports visitors to a realm of timeless elegance.
Once a cherished summer retreat for the rulers of Udaipur, the palace's courtyards bear witness to the grandeur of bygone regal durbars. Columns, pillared terraces, and lush gardens create an ambiance of tranquility and refinement. Step inside, and be captivated by the exquisite craftsmanship that adorns every corner. The walls, crafted with a fusion of black and white marble, serve as an exquisite canvas for the delicate artistry of semi-precious stones and ornate niches. Each stroke of detail whispers tales of opulence and splendor.
The royal City Palace of Udaipur in India is a mesmerizing testament to the grandeur and opulence of the Mewar dynasty. Situated on the eastern banks of Lake Pichola, it stands as a magnificent architectural marvel, captivating all who set foot within its regal grounds.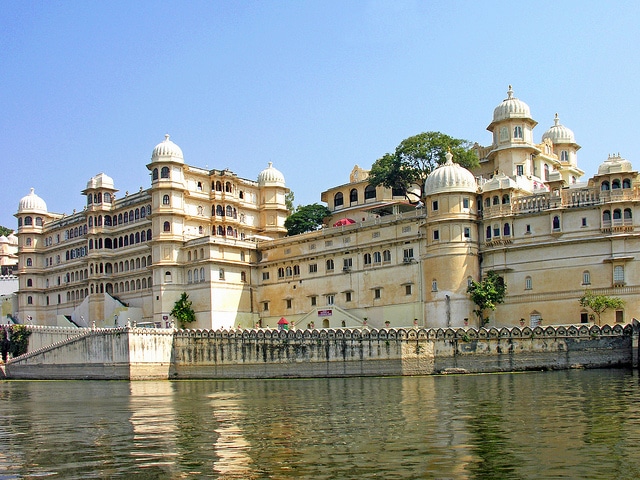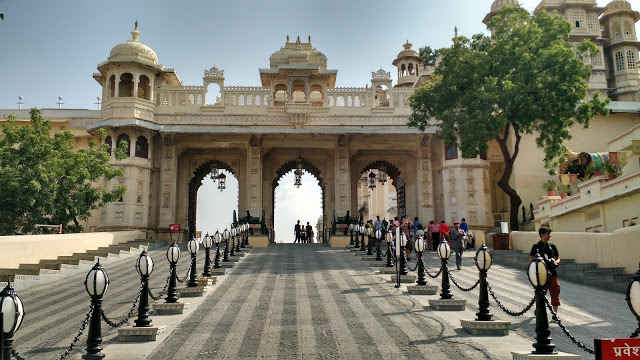 As you approach the palace, your eyes are drawn to the towering facades, adorned with intricately carved balconies, domes, and arches. Each element reflects a harmonious blend of Rajput, Mughal, and European architectural styles, showcasing the rich cultural tapestry of Udaipur. Stepping through the grand entrance, you are transported into a world of regal splendor. The palace complex spans a vast area, comprising multiple interconnected courtyards, pavilions, and palaces. Every nook and cranny exudes an aura of magnificence and historical significance.
The palace's inner chambers are a treasure trove of artistic masterpieces. Intricate frescoes, delicate mirror work, and vibrant murals adorn the walls, depicting mythological tales, royal processions, and scenes of courtly life. Each stroke of paint tells a story, preserving the heritage and legacy of the Mewar dynasty. As you traverse the palace's labyrinthine corridors, you encounter ornate halls and chambers that once hosted extravagant celebrations and royal gatherings. Pillared terraces offer breathtaking panoramic views of the surrounding landscapes, including the shimmering Lake Pichola and the sprawling city of Udaipur.
Within the palace complex, the Maharana's quarters showcase a glimpse into the luxurious lifestyle of the royal family. Lavishly decorated rooms, adorned with rich tapestries, antique furniture, and precious artifacts, transport you to an era of royal indulgence and refinement. The City Palace of Udaipur is not merely a static monument; it is a living testament to the rich cultural heritage of Rajasthan. It houses museums that display a stunning collection of royal artifacts, including armor, weaponry, intricate miniature paintings, and ancient manuscripts.
As you wander through the palace's enchanting gardens, fragrant flowers, serene fountains, and tranquil courtyards create an oasis of calm and tranquility amidst the bustling city. Each step offers a glimpse into the lavish lifestyle and regal legacy that once graced these hallowed halls. The royal City Palace of Udaipur stands tall as a symbol of Udaipur's grandeur, embodying the spirit of a bygone era. It invites visitors to immerse themselves in the splendor of Rajasthan's royal history, leaving an indelible mark on their hearts and minds.
Imagine stepping into a Palace hallway adorned with the most exquisite and captivating collection of crystals you've ever laid eyes on. It feels like pure magic, doesn't it? Welcome to the enchanting world of Udaipur's Crystal Gallery, where dreams come true.
The Crystal Gallery of Udaipur is indeed considered one of the largest private collections of crystals in the world. It was established by Maharaja Sajjan Singh (1859-1884). The gallery exhibits a stunning collection of precious crystals from various parts of the world. It features not only crystals but also other exquisite items such as fountains, dresses, dining tables, sofa sets, and the main attraction, the world's only crystal bed. Additionally, the Crystal Gallery does house rare crystals that were ordered by Maharaja Sajjan Singh from F&C Osler and Co. in England in 1877. These precious crystals add to the grandeur of the gallery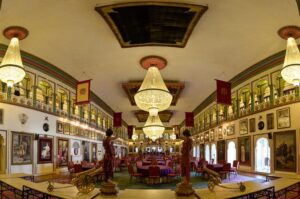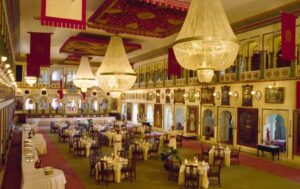 Perched majestically atop the Aravalli hills surrounding Udaipur, the Monsoon Palace, also known as Sajjangarh Palace, offers a captivating vantage point to behold the beauty of the "City of Lakes." Rising above the verdant landscape, this architectural gem presents a vision of grandeur and tranquility.
As you ascend the winding road that leads to the palace, the anticipation builds. The Monsoon Palace reveals itself against the backdrop of azure skies, its gleaming white structure standing in stark contrast to the surrounding lush greenery. Its strategic hilltop location provides panoramic views that stretch as far as the eye can see. The palace, built in the late 19th century, was initially intended as an astronomical center and a retreat for the royal family during the monsoon season. Its design seamlessly blends Rajput and Mughal architectural styles, creating an exquisite fusion of elegance and functionality. Perched atop a hill, the Monsoon Palace offers breathtaking vistas of Udaipur city, painting a panoramic portrait that leaves you in awe.
As you step through the palace's ornate entrance, a sense of serenity envelopes you. The interior spaces, though relatively sparse, exude an aura of regality. Expansive balconies, intricately carved archways, and delicate jharokhas (overhanging windows) frame breathtaking vistas of Udaipur's lakes, palaces, and the surrounding countryside.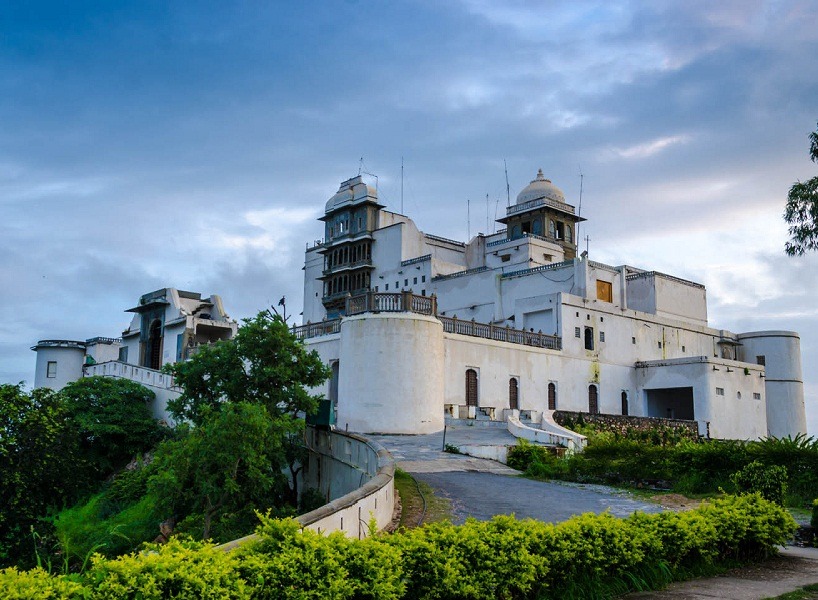 Discover the enchanting oasis of Jag Mandir, also known as the Garden Palace of Udaipur, nestled amidst the shimmering waters of Lake Pichola. This architectural masterpiece invites you with its regal charm and captivating history. Immerse yourself in a timeless world as you step onto the secluded island, where echoes of royal opulence whisper in every breeze.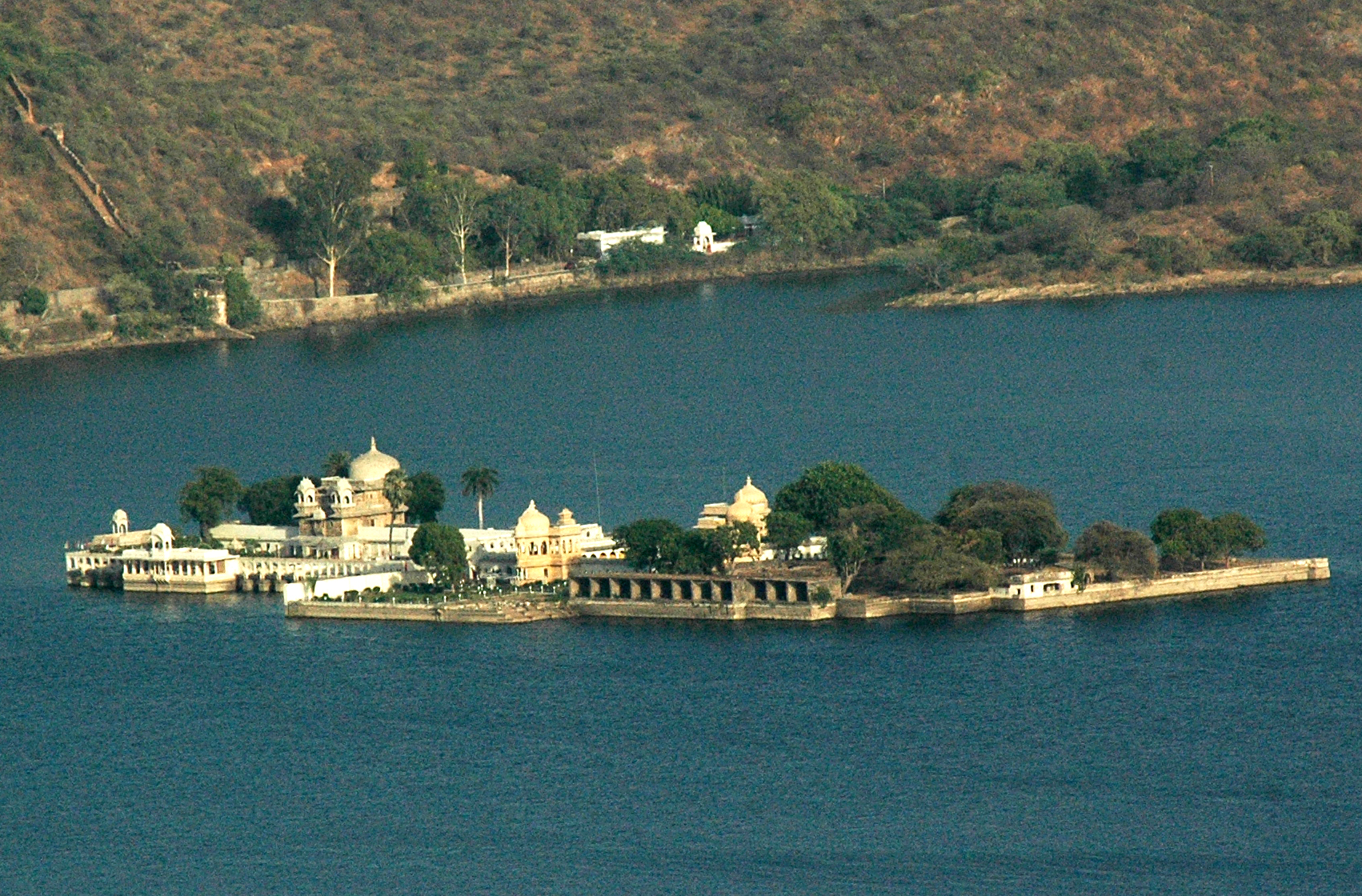 The island palace has witnessed countless moments of significance, providing a haven for royalty and esteemed guests over the centuries. Feel the presence of legends and the weight of history as you explore its lavish interiors, adorned with ornate archways and magnificent domes. From the elegant Darikhana to the splendid Gul Mahal, Jag Mandir offers a glimpse into a bygone era of opulence and regal splendor. Indulge in the serene ambiance as you stroll along the marble pathways, offering breathtaking views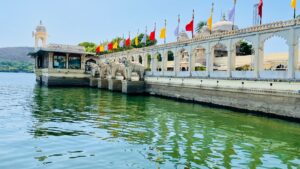 The Ropeway offers a convenient and thrilling way to experience the beauty of Udaipur from a unique vantage point, making it a must-visit attraction for both visitors and tourists. Soar above the cityscape and create memories that will stay with you long after the ride is over.
The Ropeway in Udaipur offers an exhilarating cable car ride that provides breathtaking views of the city and its stunning surroundings. As you ascend, you'll be treated to panoramic vistas of Udaipur's picturesque lakes, majestic palaces, and the Aravalli hills.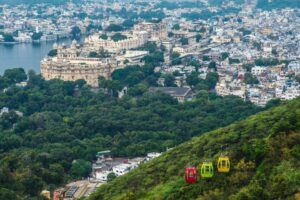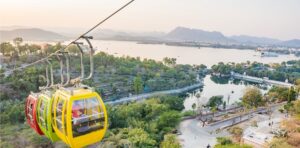 The Vintage Car Museum in Udaipur is a captivating destination for automobile enthusiasts and history lovers alike. Home to a remarkable collection of vintage and classic cars, the museum showcases the automotive heritage of Udaipur and the royal families of Rajasthan.
As you step into the Vintage Car Museum of Udaipur, you'll be greeted by a stunning array of well-preserved vintage cars from different eras. These elegant vehicles, meticulously maintained and restored, reflect the opulence and grandeur of a bygone era. Each car tells a unique story, representing a blend of craftsmanship, engineering marvels, and the aristocratic lifestyle of the past. From Rolls-Royces to Classic Cadillacs models, the Vintage Car Museum offers a fascinating journey through automotive history. The collection includes rare and iconic cars, some of which were once owned by the Maharajas of Mewar, adding a touch of regal splendor to the experience.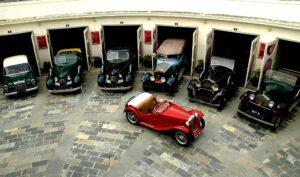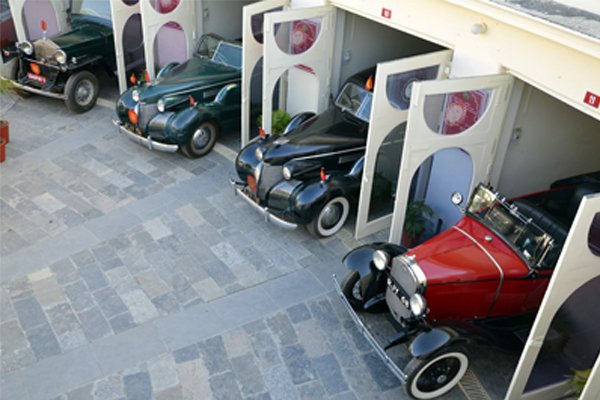 Visiting the Vintage Car Museum allows you to admire these automotive treasures up close, marvel at their timeless beauty, and gain insights into the cultural and historical significance of these magnificent vehicles. It's an opportunity to step back in time and appreciate the artistry and innovation of classic automobiles in a charming setting.
A visit to the local potter's point in Udaipur, India is a delightful immersion into the world of traditional pottery. Located in the heart of the city, this vibrant and bustling area is a haven for pottery enthusiasts and those curious about the art form. As you approach the potter's point, you'll be greeted by the rhythmic sounds of the potter's wheel and the sight of skilled artisans molding clay with their hands. The air is filled with a mixture of earthy scents and the excitement of creation.
Wandering through the narrow lanes, you'll come across numerous pottery workshops and stalls, each showcasing a variety of handmade clay items. From intricately designed vases and pots to decorative lamps and kitchenware, the craftsmanship on display is awe-inspiring. You'll have the opportunity to witness the pottery-making process firsthand, as artisans deftly shape the clay, mold it into desired forms, and decorate it with beautiful patterns and motifs. Many potters are happy to share their techniques and engage in friendly conversations about their craft, adding a personal touch to the experience. Ultimately, this immersive experience allows you to connect with the rich artistic heritage of Udaipur while supporting local artisans and bringing home a unique piece of handmade pottery as a cherished memento.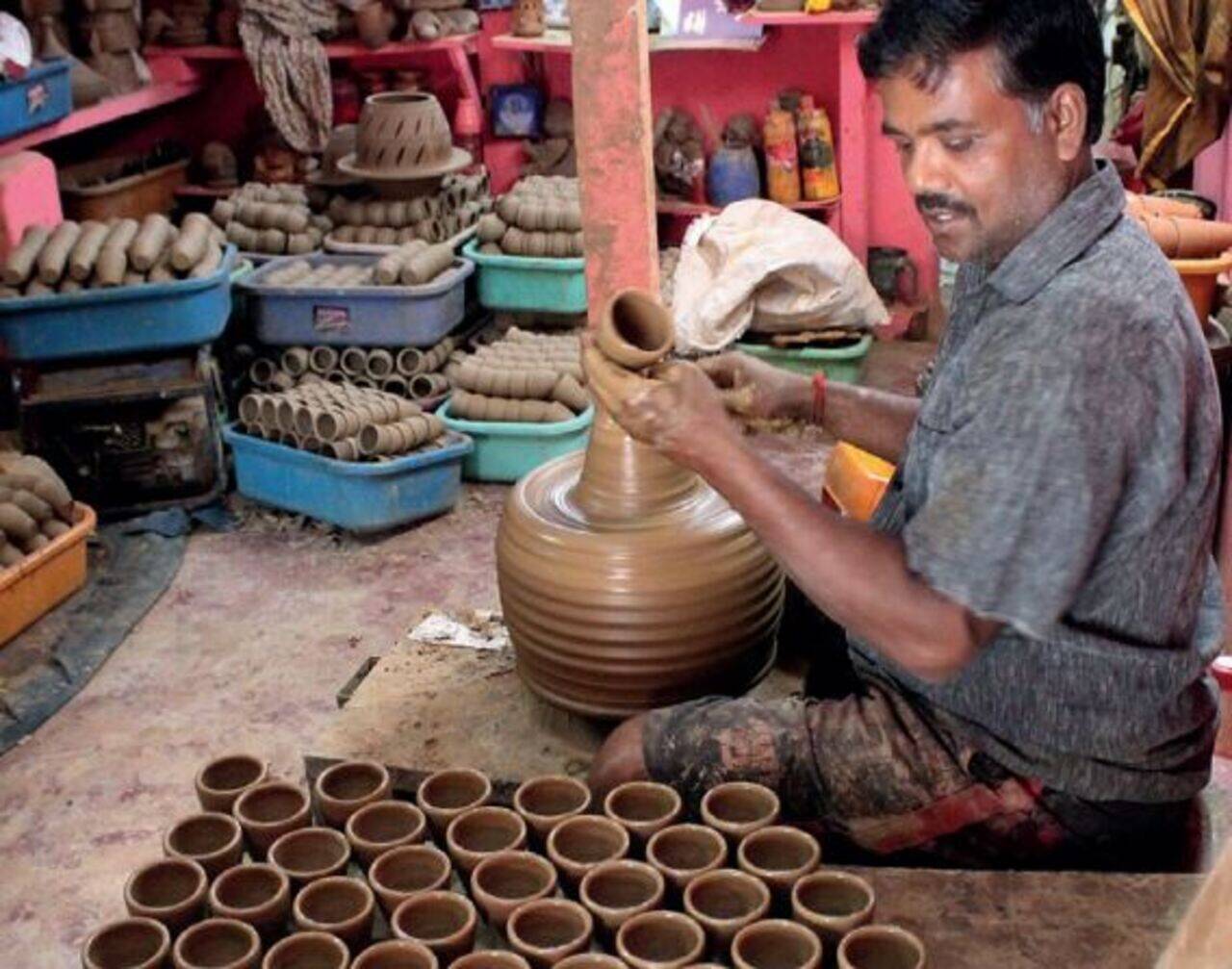 The colorful markets of Udaipur are a delightful haven for all kinds of interests. From exquisite jewelry and vibrant traditional clothing to intricately crafted wooden handicrafts and mesmerizing miniature paintings, these bustling markets offer a shopper's paradise. With a wide range of options to explore, Udaipur's markets promise a memorable and fulfilling shopping experience in the enchanting lake city. Bottom of FormTop of Form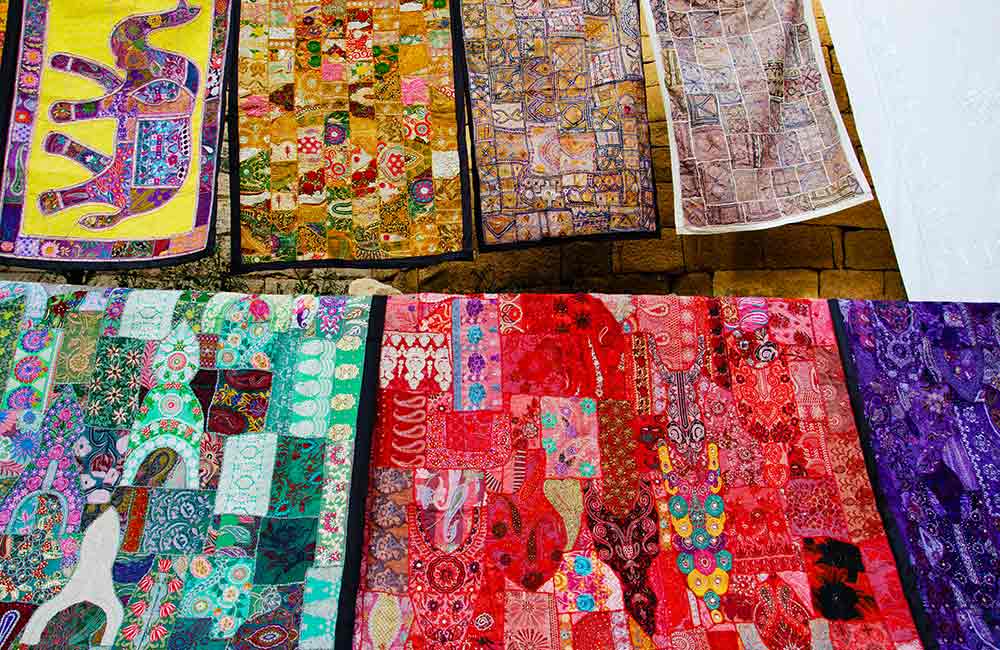 The city's charm lies not only in its natural beauty and cultural heritage but also in the warmth and hospitality of its residents. The locals, proud custodians of their city's traditions, welcome visitors with open arms, sharing stories, and ensuring that every guest feels embraced by the city's unique spirit
Culinary delights await those with a discerning palate, as the city's vibrant food scene showcases a fusion of flavors and aromas. From traditional delicacies to international cuisines, the diverse culinary offerings cater to all tastes, tantalizing the senses and satisfying even the most discerning food lovers.
Indulge in the tantalizing flavors of Udaipur's traditional cuisines and embark on a culinary journey like no other. The city's culinary heritage is a delightful blend of Rajasthani and Mewari flavors, captivating both locals and visitors alike. Udaipur's traditional cuisine is known for its rich and aromatic dishes that reflect the royal heritage of the region. From lip-smacking curries to delectable snacks and sweets, each bite is a burst of authentic Rajasthani flavors.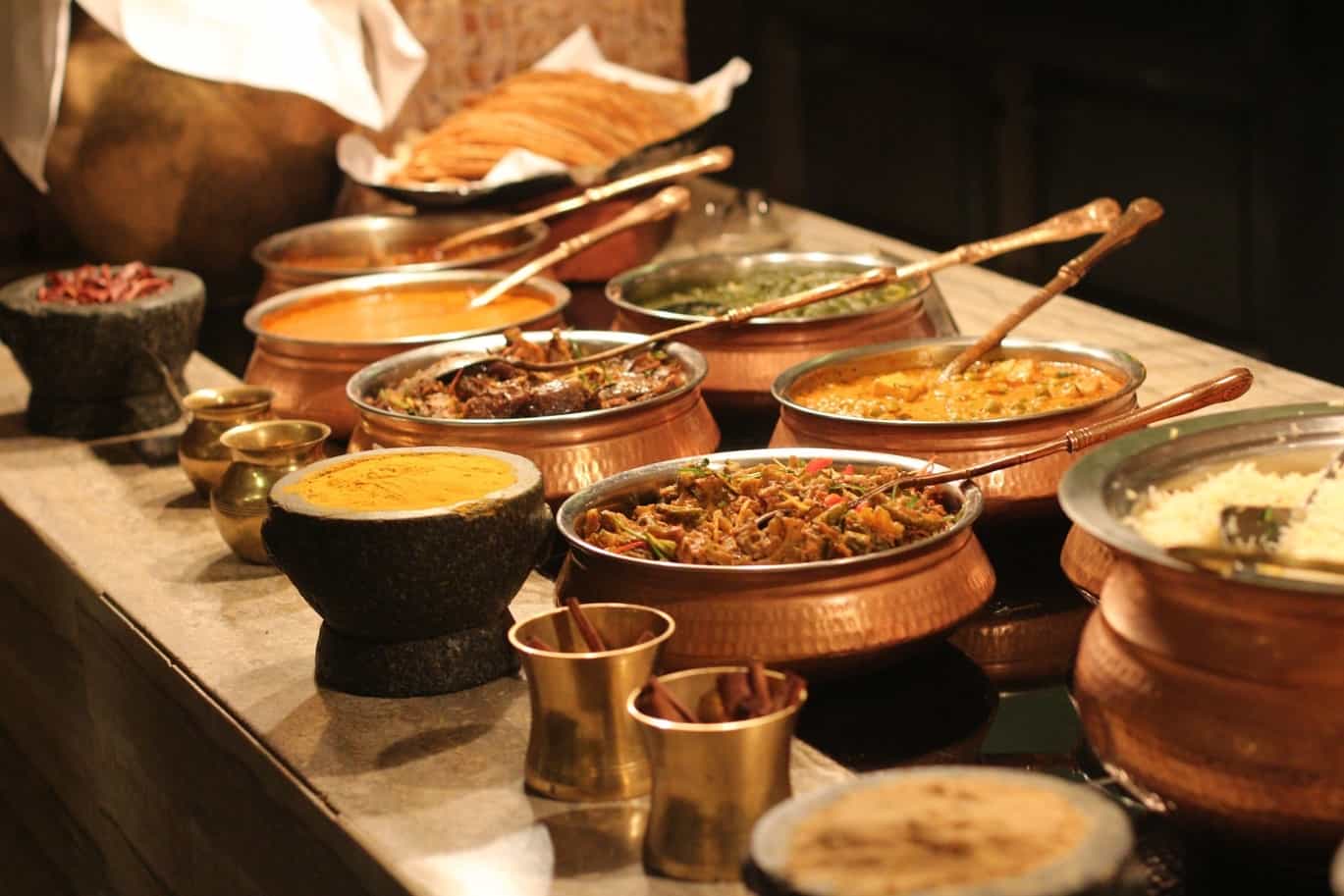 Start your culinary adventure with the famous Dal Baati Churma, a Rajasthani specialty that combines lentil curry, baked bread rolls, and sweet crushed wheat. The dish is a perfect harmony of spices and textures that will leave you craving for more. Udaipur is also renowned for its street food culture, with dishes like Kachori, Mirchi Bada, and Pyaaz Kachori stealing the hearts of food enthusiasts. These crispy, spicy snacks are best enjoyed with a cup of masala chai, adding a burst of flavor to your taste buds. 
For a royal treat, savor the Laal Maas, a fiery red meat curry made with succulent pieces of mutton and a blend of spices that create a symphony of flavors. Pair it with Bajra Roti (millet bread) for an authentic Rajasthani experience. 
Overall, the beautiful city of Udaipur offers a unique experience for halal-friendly travelers. This city is one of the ideal and perfect destinations for Muslim-friendly holidays and experiences.
With HalalTrip India, you can discover all this and much more. Our tours aim to uncover cultural intricacies and connections across a wide range of subject areas and themes, including art, architecture, archaeology, history, and the natural beauty of unique destinations in India. Our services combine vibrant Indian history and culture with gorgeous natural scenery, offering not just ordinary tours, but meaningful experiences for lasting memories.
We offer specially designed features and selected destinations to cater quality services for halal-friendly tourism and hospitality. We ensure that Muslim travelers the best hospitality while on trips and holidays in India.
Write us – travel.HalalTripIndia.com
Follow us – www.facebook.com/IndianHalalTourism
Follow us – https://www.instagram.com/halaltripindia/