Embark on an enchanting journey to Kerala, a hidden gem among Halal-friendly destinations. Here, your senses will come alive as you discover pristine backwaters, bask on vibrant beaches, wander through lush valleys, gaze upon majestic mountains, and encounter exotic wildlife sanctuaries. Kerala, recognized as one of the finest Muslim-friendly travel destinations, is a treasure trove of Islamic heritage sites, offering a unique blend of natural splendor and a rich Islamic history waiting to be uncovered. Immerse yourself in the emerald landscapes, the soothing sounds of flowing water, and the fascinating Islamic heritage that Kerala has to offer.
An introduction to Kerala, the green paradise: its unique cultural heritage and ancient history coupled with unmatched beauty, the place with a 100% literacy rate, and the land of the nicest people. It's one of the most visited places on Planet Earth. The beautiful destination boasts a vast and opulent Islamic heritage and architectural legacy.

With a catchy tagline, "God's Own Country," the destination of Kerala is a global brand and is regarded as one of the destinations with the highest recall. Its culture and traditions, coupled with its varied demographics, have made Kerala one of the most popular Halal-friendly tourist destinations in the world. National Geographic Traveler magazine names Kerala as one of the "ten paradises of the world" and "50 must-see destinations of a lifetime." Travel and Leisure names Kerala as "One of the 100 great trips for the 21st century." Kerala's tropical backwaters, pristine beaches, lush tea gardens, wildlife sanctuaries, mountain ranges, green environment and its rich Islamic heritage are the major attractions for visitors from all across the globe.
Geographically, a narrow strip of land along the Arabian Sea and its fortunate location have made this place a green paradise, the land of coconut groves, green mountains, paddy fields, spices, coffee and tea plantations, and many others. Once the hub of ancient Indian Ocean trade routes, it served as the major trade center of South Asia, establishing strong trade relations across the Arabian Sea with all major Mediterranean and Red Sea ports, as well as those of Africa and the Far East. During the early ages, immigrants arrived here and shaped society. This kingdom has witnessed the rule of many leaders and served as a major gateway to the western coast of medieval South India for several foreign entities. These entities included the Arabs, the Persians, the Africans, the Chinese and the various kingdoms from Southeast Asia, and the Europeans.
The enchanting chapter of Islam's arrival in the Indian subcontinent unfurled through the endeavors of intrepid Arab traders. They wove intricate trade networks that shimmered along the captivating coastal regions, with a special focus on the Malabar region of Kerala, nestled in the heart of southern India.
When we consider the broader sweep of history, it becomes evident that India has maintained significant trade contacts with the Arab world since ancient times. Trade relations between Arabia and the Indian subcontinent can be traced back to ancient eras, even preceding the rise of Islam. Arab traders frequented the Malabar Coast, establishing connections with ports in Southeast Asia. As early as the 1st century A.D., the Roman historian Pliny the Elder meticulously documented the trade routes to India and the astute use of the July monsoon winds by traders to reach the Indian coast. He vividly described a voyage from the Arabian coast to Muziris (known today as Kodungalloor, Kerala), a journey that spanned approximately 40 days. These historical accounts shed light on the enduring trade connections between the Kerala Coast in India and the Arab world. These connections not only fostered cultural exchanges but also served as conduits for the diffusion of various influences, encompassing religious and linguistic interactions.
Islam's journey to the Indian subcontinent was ignited by daring Arab traders. Their trade routes, particularly in the Malabar region of Kerala in southern India, became the catalyst for introducing Islam to the locals and establishing Muslim communities. These communities thrived as cultural and economic hubs, preserving Arab cultural influences in their customs, language, and social practices. Over time, they left an indelible mark on the region, shaping local cuisine, music, literature, and architecture. This fusion of Arab and Indian influences birthed a unique and captivating cultural heritage, a testament to the harmonious blend of two worlds.
With the dawn of Islam, Arab traders became bearers of a new faith, leaving an indelible mark on its spread. The Cheraman Juma Mosque in Kodungalloor, Kerala, holds a cherished place in the annals of Islam in the Indian subcontinent. Constructed in 629 A.D. by Hazrat Malik Ibn Dinar during the lifetime of Prophet Muhammad, it is a beacon of history, believed to be the first mosque in the Indian subcontinent and one of the world's oldest. The Cheraman Juma Mosque stands as a living testament to the early roots of Islam in the region, a symbol of Arab traders' enduring contributions to the growth of Muslim communities in India. It beckons travelers to witness this captivating chapter of history.
"Let's take a trip to this unique green paradise, the premier Halal-friendly tourist destination…"
Kochi, also known as Cochin, is the largest city in the southern Indian state of Kerala and is often referred to as the 'Queen of the Arabian Sea' due to its historical significance in spice trading. Modern-day Kochi has preserved the charm of the many cultures that have influenced it over the years, including British, Arabian, Portuguese, and Chinese influences. In 2020, Kochi was ranked seventh in Lonely Planet's list of the top 10 cities in the world to visit, serving as a gateway for Indian and international travelers exploring the beautiful state of Kerala. This place is famous for numerous amazing reasons.
The Calvathy Mosque, also known as Calvathy Juma Masjid, is a historical gem hidden amidst Cochin's vibrant streets. Built in 1384 by Arab merchants, it showcases the region's rich cultural heritage through its traditional Indo-Islamic architecture, characterized by a wooden ceiling and the absence of minarets. "Calvathy" comes from the Arabic word for "open space," reflecting the Arab tradition of open-air prayer. This unique Mosque's architecture and historical importance enrich Kochi's cultural tapestry. Besides being a place of worship, the Calvathy Juma Masjid complex houses the mausoleums of two distinguished Islamic figures. One is Hazrat Syed Sanaullah Makti Thangal, a revered Islamic scholar and reformer known for his pioneering contributions to Islamic education in Kerala. The other is Hazrat Fareed Auliya, a renowned Islamic preacher whose teachings have left a lasting impact on the community. These mausoleums pay tribute to their significant roles in Islamic scholarship.
The historic St. Francis Church in Kochi is indeed one of the oldest European churches, dating back to its construction in 1503. What adds to its allure is the fact that Vasco da Gama, the renowned Portuguese explorer, was initially buried in this very church after his demise in Kochi in 1524. Although it's worth noting that after 14 years, his remains were moved to Lisbon. Nonetheless, this church bears witness to a fascinating chapter in history, where the legacy of great explorers found its resting place amidst the echoes of time.
Kochi's historic Jewish town is adorned with charmingly painted buildings, leading to the must-visit attraction of the Mattancherry Synagogue, one of the oldest synagogues still in existence within the Commonwealth.
Another essential stop on every visitor's list in Kochi is the Chinese fishing nets. These intricate mechanisms loom over wooden boards, supporting massive nets. What makes them truly special is that they are permanent fixtures, a rare sight outside of China. They serve as a lasting testament to the amicable relations between the ancient Chinese emperors and the rulers of Kerala during that era. As you visit these enchanting places, you'll be treated to breathtaking scenery, especially during the sunset, when the colors in the sky blend harmoniously with the surroundings.
Alleppey, also known as Alappuzha, proudly wears the moniker 'Venice of the East.' This enchanting town is renowned for its captivating backwaters adorned with lush green paddy fields and swaying palm trees, making it one of the finest backwater destinations. The hallmark of an Alleppey trip is the classic houseboat experience—a leisurely cruise through its intricate network of canals that allows you to immerse yourself in the timeless charm of these serene waters.
Immerse yourself in the rich local culture as you witness villagers going about their daily routines while you embark on a tranquil journey. Alleppey offers something for everyone, regardless of age or interests. It's perfect for families seeking bonding time, couples in search of peace and quality moments, solo travelers yearning for solitude, and groups of friends in pursuit of both leisure and adventure.
Kumarakom town, adorned with mesmerizing beauty, stands as one of Kerala's ancient treasures—a haven for nature enthusiasts. Here, you'll discover the magnificent Kumarakom Bird Sanctuary, a testament to the region's rich biodiversity. Nestled near the serene Vembanad Lake, this backwater destination casts a spell that beckons you to return, time and time again.
During the cruise, you can watch the sun gently setting behind a backdrop of swaying coconut trees as your feet caress the serene waters. This tranquil backwater hamlet, less crowded and brimming with exotic scenery, is renowned for its distinctive houseboats and luxurious resorts. As you arrive, you'll instantly grasp the tranquility and verdant beauty that define Kumarakom.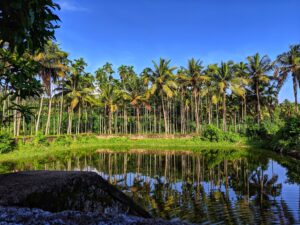 Munnar, nestled at an altitude of 1600 meters above sea level, is the crown jewel among Kerala's hill stations. This lofty retreat is a symphony of high-reaching clouds, breathtaking mountains, rolling hills, and a tranquil atmosphere, securing its position as one of India's premier hill towns. Once the favored summer haven of the British, Munnar is now celebrated for its lush tea plantations and the captivating tea museum. When you visit, you'll be treated to endless vistas of sloping green valleys, and the refreshing aroma of tea leaves will greet you every morning during your stay at a tea estate in Munnar.
Thekkady, a perennial favorite among tourists in Kerala, is a verdant haven that beckons nature enthusiasts and wildlife lovers alike. It ranks among the top tourist destinations in Kerala, offering a delightful blend of spice gardens and thrilling adventure sports.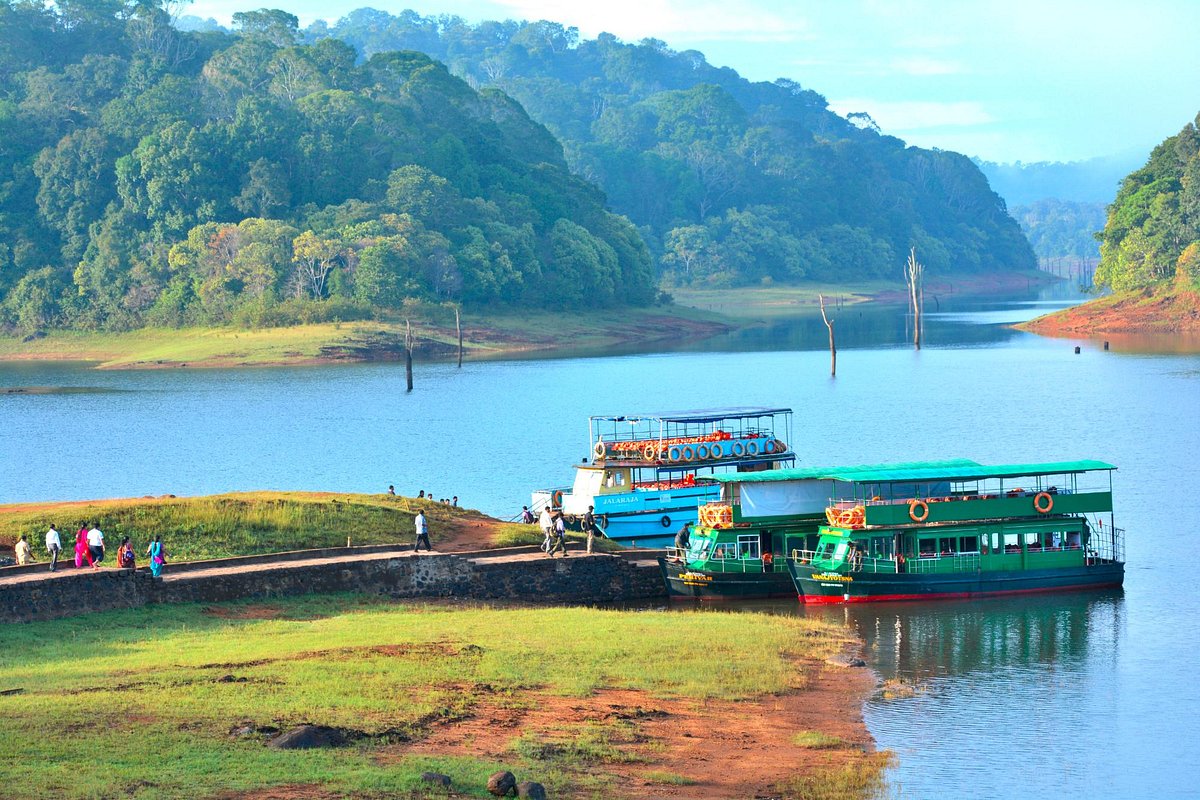 The sanctuary in Thekkady is home to a diverse array of wildlife, including elephants, bison, deer, Nilgiri langurs, and tigers. The lush, emerald forests and tranquil waters work their magic to provide a soothing experience. At Periyar National Park, a Tiger and Elephant reserve, you can embark on a jungle safari, explore the Tiger Trail on treks, try bamboo rafting, and partake in well-organized camps and safaris—perfect for those seeking leisure and adventure in equal measure.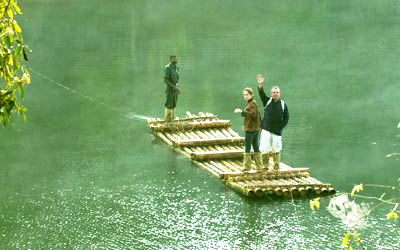 Kovalam, nestled along the enchanting shores of the Arabian Sea, is a place of pure picturesque beauty and playful charm. Undoubtedly, it stands as one of Kerala's premier destinations.
If you seek a beach that offers a plethora of activities, including a surf club, Kovalam is a must-visit. Here, you can reconnect with both yourself and nature in perfect harmony. This tranquil beach town boasts three splendid crescent-shaped beaches—Hawa, Lighthouse, and Samudra. It's a haven for adventurous souls, offering a wide array of beach sports and experiences to delight in.
The serenity and tranquility of Mararikulam, also known as Marari Beach, are unmatched. If there's any place that can truly be called a paradise for beach lovers, it's Marari Beach in Kerala. This local fishing town, nestled on the Arabian Sea Coast, is a perfect destination for a holiday with family and friends.
Marari is a tranquil fishing town, blessed with a serene atmosphere and graced by one of the most pristine, untouched beaches. Here, you'll find a long stretch of powdery white sand framed by swaying palm trees and charming fishing villages. Along the coastline, you'll witness the picturesque sight of fishermen's boats gently lined up, and you can even observe them setting sail to capture the day's fresh catch from the sea.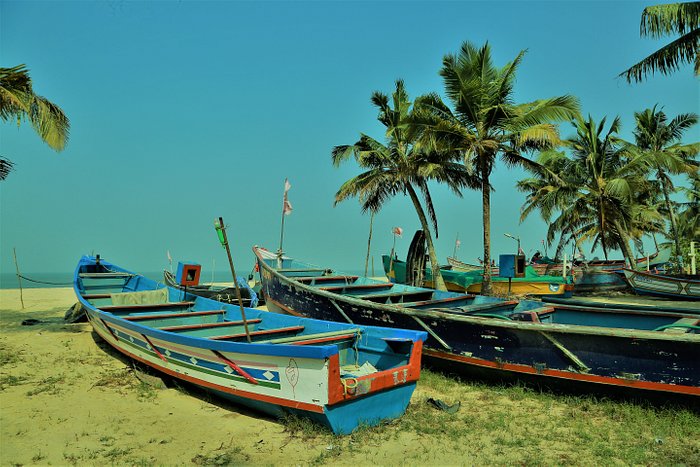 Varkala's beaches exude a captivating allure as they embrace the Arabian Sea, making it one of the most enchanting destinations in Kerala. What sets Varkala apart from other beach destinations in Kerala are its alluring seaside cliffs, a truly unique feature.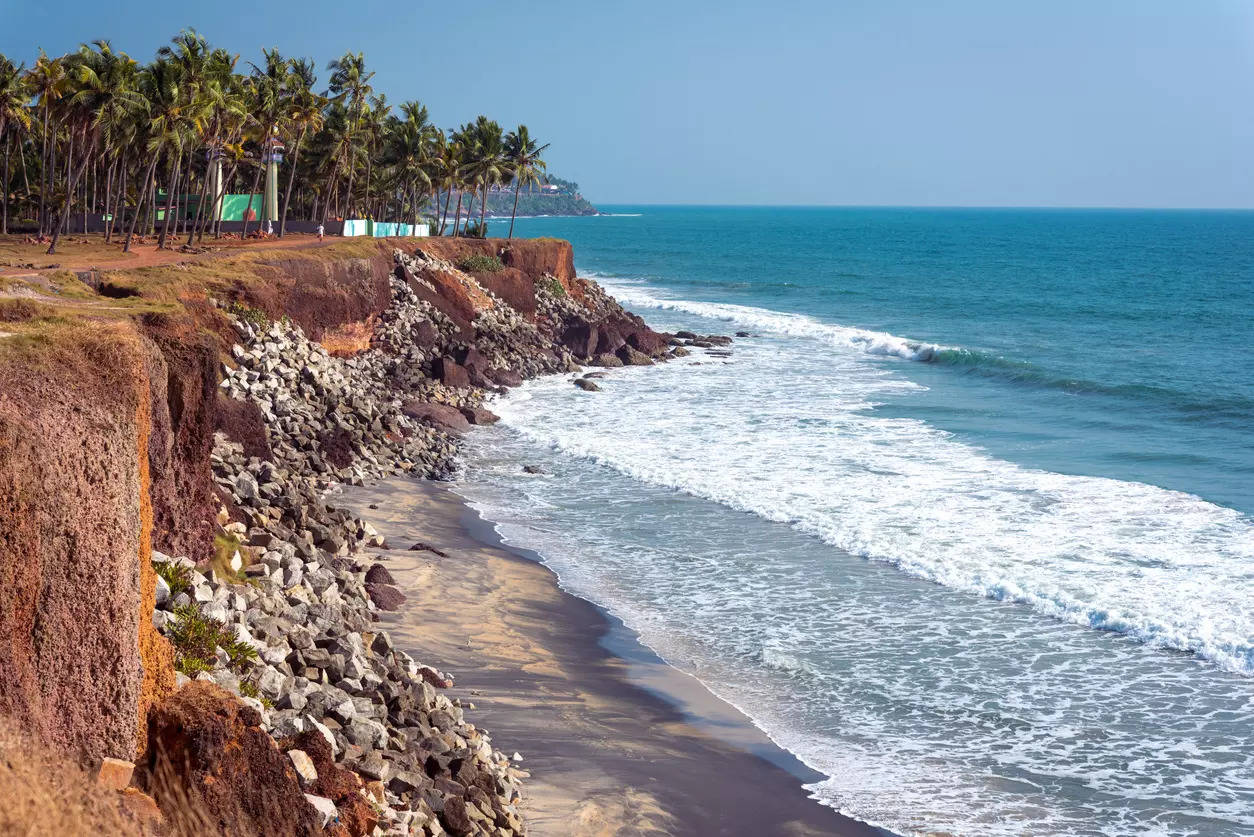 Varkala is also renowned for its water sports, including parasailing and windsurfing, thanks to its long tides and favorable weather conditions. One of the most cherished experiences in Kerala is witnessing the romantic sunset at Papanasam Beach in Varkala, an idyllic moment to share with your loved ones. And if you're fortunate, you may even catch a glimpse of playful dolphins frolicking in the sea, adding an extra touch of magic to your visit.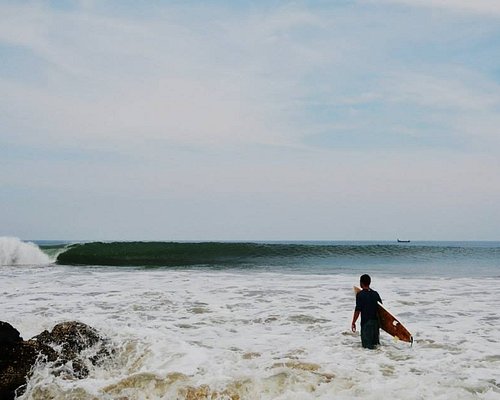 The town of Wayanad in Kerala, renowned for its consistently pleasant climate year-round, is a delightful hill station that beckons travelers to explore its natural beauty. It's one of those rare locations in Kerala that can be visited at any time of the year. The name "Wayanad" itself translates to 'land of paddy fields,' and this charming region unfolds a lush landscape adorned with rice paddy fields, betel nut trees, coffee plantations, and enchanting bamboo forests.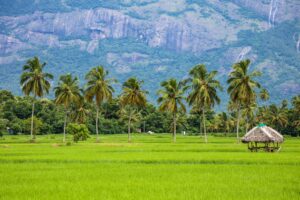 Wayanad is not only blessed with natural beauty but also boasts caves adorned with rock and wall carvings dating back to the Neolithic and Mesolithic ages. This town is a prime destination for wildlife enthusiasts, particularly those eager to spot wild elephants. The Wildlife Sanctuary further enhances Wayanad's enchanting beauty and rich heritage, offering visitors the opportunity to delve into history while exploring this exquisite corner of Kerala. The lush and pristine forests of Wayanad are said to have existed for more than 3,000 years, adding to the region's mystique and timelessness.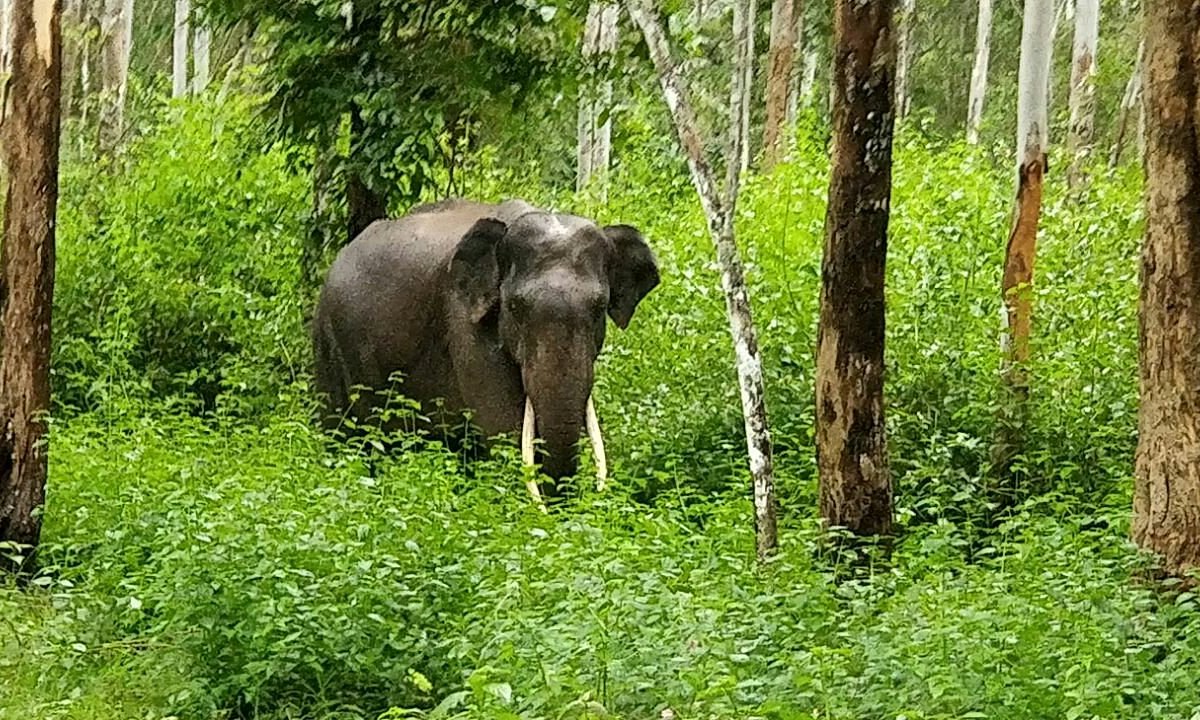 Trivandrum, also known as Thiruvananthapuram, is the capital city of the Indian state of Kerala. Located on the southwest coast of India, Trivandrum is known for its rich cultural heritage, historical Mosques and Islamic landmarks, lush greenery, and beautiful beaches.
Kerala's Islamic heritage is a hidden treasure of culture, art, and architectural marvels, offering immense depth and richness. It is a captivating land nourished by the flowing currents of compassionate Islamic philosophies from time immemorial. The Islamic community here has thrived, nurturing faith and a rich cultural heritage that has left an indelible mark on the Indian subcontinent.
The Mishkal Mosque, a medieval Mosque situated in Calicut, Kerala, stands as a rare and valuable relic of the past. This Mosque carries immense cultural, historical, and architectural significance in the region. In the 14th century, the Mosque was commissioned by a prominent Muslim merchant-shipowner known as Mishkal. He was a prominent figure in Calicut during the 1340s, distinguished by his substantial wealth and a fleet of ships involved in trade with India, China, Yemen, and Persia. In the medieval Indian Ocean world, ship-owners like Mishkal, often referred to as nakhudas, occupied a place of prominence among the wealthiest merchants, underlining the historical importance of this Mosque.
Beemapalli Mosque in Trivandrum stands as one of the most beautiful and historically significant mosques in Kerala. This mosque is dedicated to Hazrat Syedunnisa Beema Beevi, also known as Hazrat Beema Umma, believed to be a direct descendant of Prophet Hazrat Mohammed. Legend has it that Hazrat Beema Umma and her son Hazrat Syed us-Shuhada Maheen Abubacker arrived in India from Arabia in the seventh or eighth century to spread the teachings of Islam among the early Muslim communities in India.

One of the remarkable features of Beemapalli is the belief that the water from its wells possesses healing properties capable of curing various diseases. Among the two wells at Beemapalli, one contains hot water while the other holds cold water. It is said that even during severe droughts, the water in these wells never runs dry. The Beemapalli Mosque complex is not only an important religious center for Muslims but also promotes communal harmony, drawing thousands of people from different parts of the world. It serves as a symbol of unity among people of various faiths.
The Juma Masjid in Thazhathangadi, Kerala, stands as a true architectural marvel. This ancient Mosque is nestled along the banks of the Meenachil River in the Kottayam district. With a history believed to span over 1000 years, it is regarded as one of the oldest mosques in the Indian subcontinent. This Mosque is celebrated not only for its age but also for its remarkable architecture and craftsmanship. It boasts intricate wooden carvings, a concealed passageway, and a water tank carved out of a single block of stone. The Mosque features a square inner courtyard, a beautifully crafted wooden gabled roof, a traditional bathing area, and charming latticed windows reminiscent of a temple or royal palace. Its design is a sight to behold.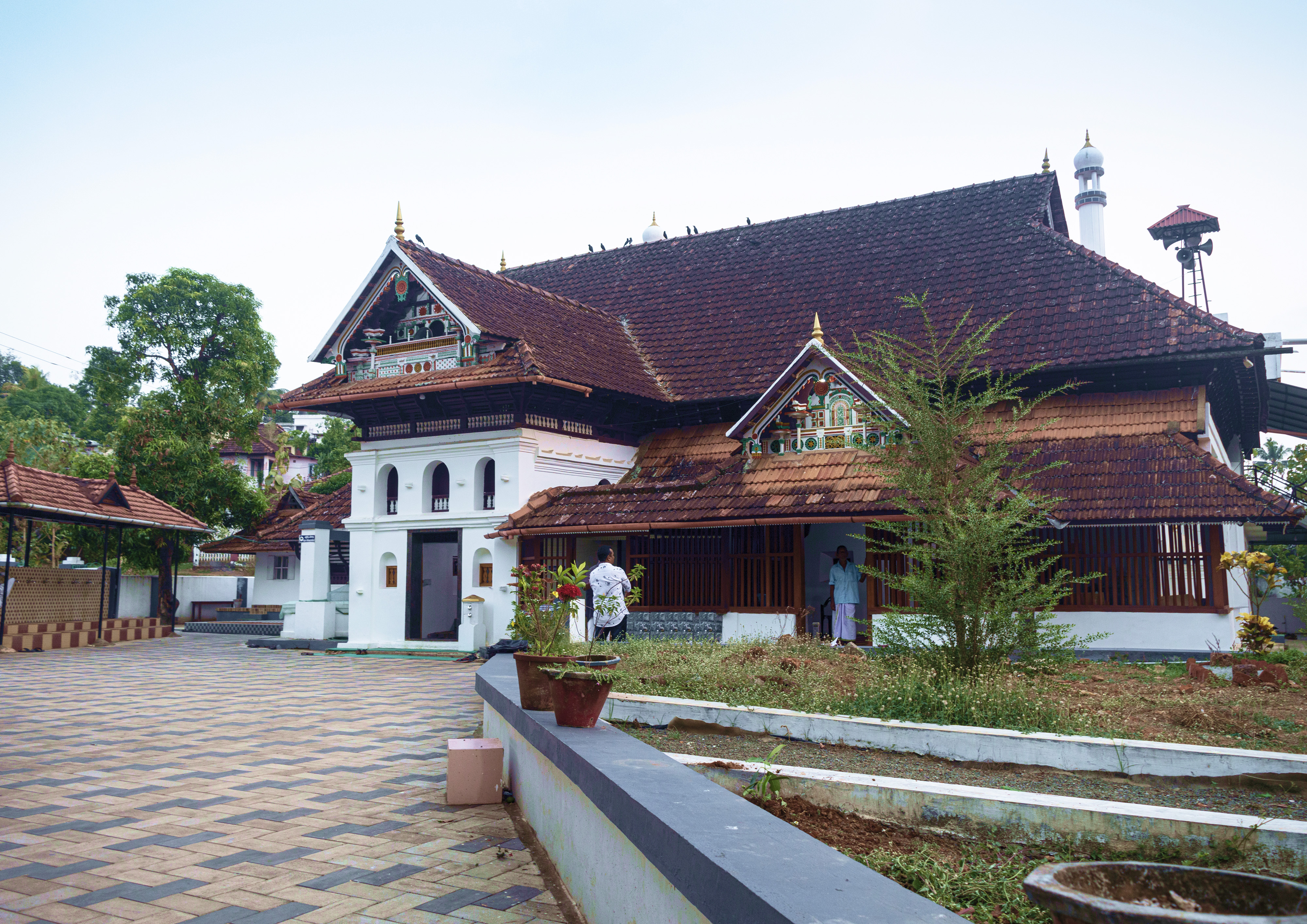 Hazrat Malik Deenar Grand Juma Masjid, located in Kasaragod town of Kerala, is renowned as the second oldest Mosque in the Indian subcontinent. Over the years, Kasaragod has gained significant importance as a center of Islam on the west coast, and it is home to one of the Mosques believed to have been founded by Hazrat Malik Dinar.
The historical significance of the Hazrat Malik Dinar Masjid is truly remarkable. Constructed in the typical Kerala style of architecture, it stands as one of the best-preserved and most attractive Mosques in the state of Kerala. The Mosque's design resembles a palace, featuring two stories and robust wooden beams. According to the Qissat Shakarwati Farmad, the Mosques in various locations such as Kodungallur, Kollam, Madayi, Barkur, Mangalore, Kasaragod, Kannur, Dharmadam, Panthalayini, and Chaliyam were built during the era of Hazrat Malik Dinar. These mosques are among the oldest in the Indian subcontinent, highlighting the enduring legacy of Islam in the region.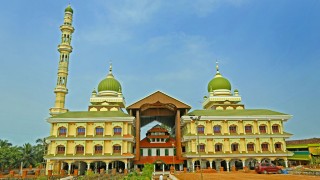 Kodungallur, a historic town in Kerala, holds the distinction of being home to the first mosque in the Indian subcontinent, known as the Cheraman Juma Mosque. Legends trace its construction back to Hazrat Malik Deenar in 629 CE, during the lifetime of Prophet Muhammad, making it one of the world's oldest mosques. This mosque stands as a prime example of unique Indo-Islamic architecture, a testament to its enduring historical significance.

The Cheraman Juma Mosque underwent various modifications and additions over the years, resulting in a unique blend of architectural styles that draw from both Indian and Middle Eastern influences.
According to various historical accounts, King Cheraman Perumal, also possibly named Ravi, was walking with his queen in the palace when they witnessed the miraculous splitting of the moon. Intrigued and shocked by this phenomenon, the king inquired about it when Arab merchants visited his palace. Their responses piqued his curiosity, eventually leading the king to embark on a journey to Mecca. There, he had the honor of meeting Prophet Muhammad and subsequently embraced Islam. In recognition of his newfound faith, Muhammad bestowed upon him the name Tajuddin, Thajuddin, or Thiya-aj-Addan, signifying "The Crown of Faith." Unfortunately, King Cheraman Perumal passed away on his return journey and was laid to rest in Salalah, Oman. Before his demise, he had penned a letter to his kingdom, urging them to accept Islam and follow the teachings of Hazrat Malik Deenar. This account finds support in historical records such as Al-Tabari's Firdousul Hikma from the 9th century and Ferishta's Tarikh Ferishta, both of which corroborate this remarkable conversion story.
The Cheraman Juma Masjid complex houses the first Islamic heritage museum in Kerala, which is maintained as part of the Heritage Project.
The Islamic heritage museum serves as an informative window into the history of Islam in Kerala, offering visitors insights through information panels and visual media. Elaborate murals and paintings recount the story of Cheraman Perumal, the Chera king who embraced Islam.
As part of the Heritage Project, the Cheraman Juma Masjid complex retains several key features. These include a section of the mosque itself, an intricately inscribed traditional oil lamp placed inside the mosque, the mosque's traditional thatched wooden roof, a burial ground, visual representations of the earliest mosques in Kerala, documentaries, interviews with people, a miniature replica of the mosque's structure, and woodcarving panels from the mosque. This comprehensive collection provides a rich and immersive experience for visitors.
Discover the true essence of India with us, one of the prime destinations for Halal-friendly travelers. Embark on an enchanting Muslim-friendly tour that unveils the irresistible charm of India, adorned with a myriad of mesmerizing Muslim-friendly travel destinations. Destination India offers an extensive array of options to curate a memorable and enchanting Halal-friendly travel experience, meticulously tailored for Halal holidays. Immerse yourself in the rich tapestry of cultural heritage and the tranquility of nature's serene beauty.
We take immense pride in being the most trusted Halal travel guide for Muslim travelers seeking the best in Halal-friendly tourism in India. Our unwavering commitment ensures the best Halal travel experience throughout your trips in India.
Join the countless travelers who have entrusted us with providing the finest travel experience in India. Allow us to be your reliable travel partner as you unveil the essence of India and craft cherished memories that will last a long time.
Follow us – www.facebook.com/IndianHalalTourism
Follow us – https://www.instagram.com/halaltripindia/
Follow us – www.twitter.com/TourismHalal
Write us – travel.HalalTripIndia.com